This shop has been compensated by Collective Bias, Inc. and its advertiser. All opinions are mine alone. #DineALaCat #CollectiveBias Thank you for supporting the brands that support The Classic Brunette
I recently shared a little glimpse of Henry in
last Monday's post
, and you all were so excited to see him! I wanted to share a little more about him because he's such a huge part of my life, and I know a lot of you all have kitties of your own! I adopted Henry last June when he was 5 weeks old and now he's SO BIG. Honestly, I think he's a mix of one of the bigger breeds of cats and will end up being 15+ pounds! But he's such a friendly giant, and makes me incredibly happy. I love cuddling up with him in the mornings, watching him play with his little catnip mice, and hearing his little meowing chirps whenever he wants food, haha. In all seriousness though Henry is such a little bundle of light and keeps me entertained and feeling loved all the time. He gives me so much, so I definitely spoil him back to make sure he's living his best life! Here are a few tips that make me a crazy cat lady and Henry the happiest little cat.
Upgrade Their Dining Experience
A healthy meal is super important for cats, but you also want to make sure it's tasty! A good brand of cat food can make all the difference in your cat's health, and for that reason I stick with
Purina Fancy Feast®
. I've fed it to all of the cats I've had, and I'm sure it's part of the reason why all of them lived so long! (All my cats have lived 19+ years!) Henry loves his regular mealtimes, but sometimes he gets a little hungry in between. He'll meow at me if he wants something a little extra, and I love to treat him with a little something extra. His favorites have been the Fancy Feast
®
filets and broths.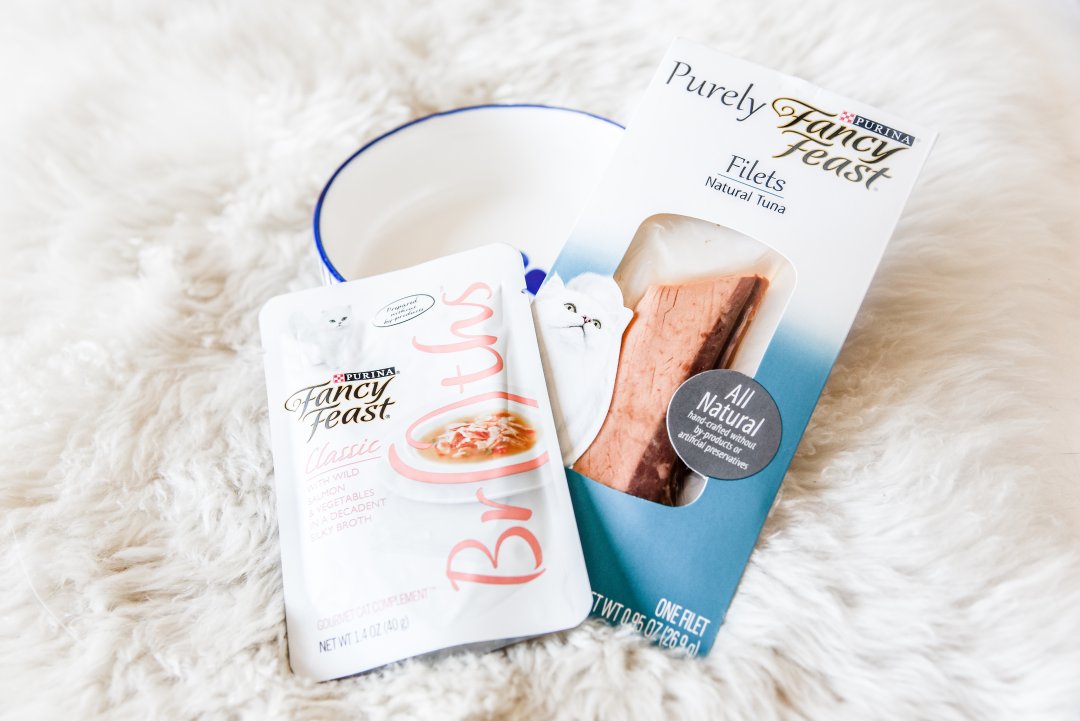 If you're interested in trying the product above, hover over the image to click through to PetSmart to shop!
I picked these up at my local
PetSmart
when I was looking for a way to pamper Henry a little more. PetSmart has been my go-to spot for all my pet needs ever since my roommate got her dog. We made weekly trips for her puppy training, and I realized that they had absolutely everything I need to keep him happy. He isn't a fan of traditional treats, but these gourmet cat complements are exactly what he likes. If he starts meowing, I know it's time to break out one of these! The
Purina Fancy Feast® Filets
Natural Tuna is perfect as a treat by itself, but I've found that Henry likes it best when paired with one of his meals. It's easy to flake apart into bite size pieces, and he gobbles it up so fast! If I want to give him something on the lighter side his favorite is the
Purina Fancy Feast® Broths Salmon Vegetable Classic. Adding a little extra treat to his day is just a small way to show your kitty some love!
Give Them Proper Grooming
You wouldn't be so happy if you never took care of your personal hygiene, and neither would your cat! Luckily they do most of the heavy lifting themselves, but that doesn't mean they don't need a help from you at times. Medium-long hair cats should get brushed every few days, or even daily depending on their fur. This keeps them silky smooth and matte free! I started brushing Henry the first week I got him, and now he purrs when I comb out his knots. Another thing you should be doing is trimming their nails. This tip is more for your happiness than your cats, but proper nail trimming means less scratching your furniture and their "love attacks" won't hurt as much, haha! I asked my vet to share with me her best tips for trimming nails, and the main thing she said was never to trim too far. As long as you're cutting off the sharp tip you will be good, any further than that and you could potentially injure your kitty!
Properly Introduce Other Pets
As I said earlier, my roommate has her dog, Khaleesi. Both her and Henry are around the same age, so when Khaleesi was in her puppy class at PetSmart we took Henry in so the trainer could work with both of them. Our trainer was absolutely fantastic, and I am so thankful that PetSmart provided these great training classes and such a knowledgeable trainer! Even though the trainer didn't deal with cats, he went above and beyond and carved out time in his schedule to work on how Henry and Khaleesi interacted with one another. Although their relationship still isn't 100%, they are WAY friendlier towards each other after our sessions with the trainer. Meeting and interacting with other pets can be a huge source of stress on cats, especially if they've never been with other animals before. Making sure the pets meet correctly and can at least somewhat get along will make your cat's home life a much happier one!
Get A Good Scratching Post
Henry is a BIG scratcher. If I didn't give him a good outlet for it I'm sure half of my furniture would be destroyed! I had cats in the past that were super particular with what posts they liked and which the didn't, which is normal. Sometimes you might have to go through a few posts to find one that your cat will even touch! Luckily PetSmart has a huge variety and Henry has been happy with both posts I got for him there. (Yup, he has two because he's jus that spoiled!). Seriously though, in the first photo you can see how he's lovingly destroyed his smaller one!
Give Them Love!
All cats are a fan of getting pets! You should always make time for a little love session each day, even if it's just 5-10 minutes. Each cat has a different tolerance level for touch, where they like to be touched, and for how long, but making sure they know they're loved is important. Giving your kitty that quality time is important not only for their overall temperament, but how they decide to interact with other people. Know your cats limits and don't over do it with the petting, but make sure to spend some time with them. Petting also doesn't have to be the only way you show love. Lots of cats just like to sit near you or spend their time playing!
And to finish it all off, there's a chance for you guys to save some $$ when next shopping for your cat!
Starting 9/5 there's an Ibotta offer

where you can earn cash back when you buy any two (2) Purely Fancy Feast® Filets, for a limited time.
Do you have a cat? Tell me about them and your favorite way to make them happy in the comments!